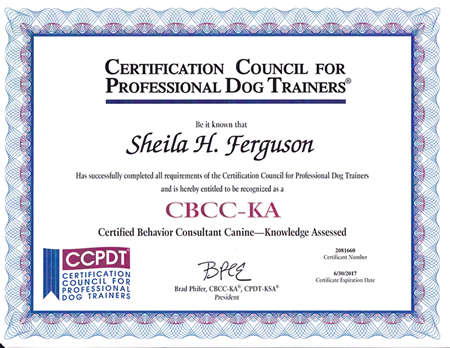 If you want behavior change for a troublesome behavior your dog is doing, Behavior Analysis is essential along with using scientific principles to change that unwanted behavior. Behavior Analysis can only be carried out by direct observation; it is based on behavior that is observable and measurable. I come to your home and/or particular places the behavior is occurring and carry out that observation. My experience along with my education in Behavior Analysis and Behavior Change Programs gives me the expertise to create a program for you and your dog that will change unwanted behavior. I don't function on "constructs" or "medical models" of behavior as they are not observable nor measurable and therefore it is much harder to set up a behavior change program that will work. Certainly, making sure that your pet is free of any contributing medical conditions is VITAL before proceeding. The process I use to identify problematic behavior and plan modification strategies works in real life situations addressing what the dog is actually doing instead of what we THINK the dog is doing or thinking.
I offer you:
Thorough Evaluation and Information Gathering Phase

Determination as to what degree behavior can be modified and remediated
An action plan to modify those behaviors than can be modified

Utilization of a positive hierarchy of principles

Reasonable rates

Basic training exercises included

Reward for Follow up appointments

Written Summary specific to your consultation and lesson
I will give you a concrete action plan to change unwanted behavior at reasonable rates. Basic training exercises are included.